Coach Girard's tenure begins with home loss to winless Medfield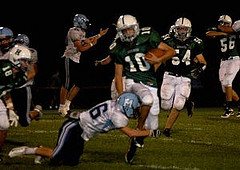 By Kellie Lodge
An abundance of errors made by the Hiller varsity football team cost Coach Jim Girard his first home game on Friday, September 24, 2010 against Medfield.
"I thought we played with intensity. However, we made a lot of mental errors and were undisciplined in certain areas. Unfortunately, we were not able to get into a rhythm of offense and our defense spent most of the night on the field. We allowed Medfield to convert too many 3rd and 4th down plays," stated first year Hopkinton Coach Girard.
The two teams were tied going into the final quarter, but Medfield defeated Hopkinton 13-7, scoring the game-winning touchdown with ten seconds to go on the clock.
Needing one more defensive stand, the Hiller defense took the field led by honorary captain Johnny Farina.  Farina stayed in the game even after suffering a possible fracture to his finger.  He stated, "I had to suck it up and stick it out with my teammates on defense.  Only a quitter would walk away with a minute left in the fourth quarter.  I played through the pain as difficult as it was."
Hopkinton's defense played well against Medfield's rushing attack.  The offense is getting used to a new style of play from the new coaching staff and are becoming more comfortable with new blocking schemes, terminology, and players shuffled into new positions.  Coming from Dover-Sherborn the new head coach arrives with  significant experience.
After Saturday's review of the game, captain Joey Grabmeier praised teammate Eric Beauregard, "He went all out every play and it really showed, especially while watching the team film session after the game, he's just a reliable guy and someone you want to be out on the field."
Coach Girard commented, "Playing at home for the first time this season generated a tremendous amount of excitement for our players. The weather was perfect. There was a great crowd and it is obvious there is a lot of school spirit in Hopkinton."
The Hillers are preparing for Norton on Saturday, October 2, 2010.